I have been planning to do a series of blog posts looking at the individuals who have influenced and encouraged my writing. The Tue-Rah series would actually be the primary focus, of course. And while I will certainly cover him once again when I reach that point in the Those to Whom I Am Grateful series, I would be remiss if I didn't give a little preview right now.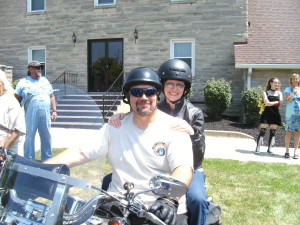 Today is my father's birthday. Yes, ring the bells, everyone. This is the day on which my father was welcomed into the world in a little hospital down in Texas on a warm summer's morning.
Trying to recount what my father means to me and how much he has impacted me is almost impossible because the man has not ever pulled back from the unenviable task of being my father. And from a very young age, I found ways to test his patience and his resolve. Supposedly I had some sort of mental alarm that would trigger whenever he left the house, and I would treat my mother to siren like shrieks, bewailing his absence. (While I'm at it, it should also be noted that my mother's patience is that of a saint!) And when he was home, I wanted nothing more than to follow him and know every detail of what he was doing. Supposedly I started talking at about 9 months and one of my early phrases was "what doin'?" I don't ever recall him becoming angry with me for persisting with questions, and he never told me that I was too young to be asking the questions I asked.
One of the first things that stands out to me about my father is his faith and the way that he has always walked in line with that faith. One of my earliest memories of him was when I was about six years old. Mom and Dad were always telling us Bible stories. I remember the parable of the Good Samaritan and Daniel in the Lion's Den best of all. On this particular day, we were in the old brown station wagon on our way to Richmond. The roads were slick with ice, and my sister and I entertained ourselves by drawing pictures on the windows (Dad didn't want us to, which is why the game was fun; we had to see whether he would notice it). Then all at once, Dad pulled the car off to the side of the road.
A couple in an old blue pickup truck had pulled off along the embankment. A thin layer of snow already covered the roof and the hood. Hopping out of the station wagon, Dad went to see what the problem was. As it turned out, the couple had run out of gas. Dad didn't hesitate. He invited them to get in the car with us. My little sister and I hopped into the back while my mother got out the spare blankets. The couple had been out in the cold for almost four hours.
When we reached the gas station, my dad purchased a large red container and filled it up with gas. The fumes made me want to gag, but there was no other way to get it back to the pickup truck. He and Mom both offered to take them out to a nicer restaurant or some place similar, but the couple insisted that they had to get back on the road. So Dad bought one of those stop and go pepperoni and sausage pizzas and an extra blanket. He then drove them back to the pickup truck and filled up their tank.
It was then that Dad noticed that the young man did not have any gloves though the young woman did. Even though it was cold and the snow started falling in thick clumps, my dad took off his black gloves, put them in the young man's hands, and insisted he take them. The young man tried to pay him, but Dad refused.
After making sure they had everything they needed, Dad then got back in the station wagon and took us home. It was a long drive back, and the heating in the station wagon wasn't that great. That was part of the reason that we had blankets and such in the car. But Dad didn't complain. A few times I saw him warming his hands. My sister and I got back up in our seats, and we asked him, "Why did you give him your gloves when you knew you were going to be cold?"
Dad didn't give us a long sermon. All he said was "it's what Jesus would have done. It's what I would have done for Jesus." As a child, I accepted that. It wasn't until I was an adult that I realized what a great thing my dad had done. See…at the time this happened, money was very tight. My dad was trying to run his own business from the house, and we had recently learned that my baby brother was autistic. Eating fast food wasn't something we could afford. In fact, according to my journals, at the time, the only thing in the pantry at home was bread, peanut butter, and homemade jelly plus some pasta and raisins. But neither of my parents hesitated to be generous, and now more than twenty years later, I still remember that.
I could tell you many more stories. But I think I shall just end this post saying that I have been enormously blessed by my father as well as inspired by him. I thank God each day that he is my father, and I pray that this day will be particularly blessed for him as well as this year.
P.S. to anyone who is freaked out that I could remember so much from when I was just a little girl, don't be. I kept very detailed journals, and I always kept my journal with me. 🙂